The Patland Blog


As many of you know, devastating fires continue to sweep their way through our precious wine country. The experience has been absolutely surreal. Countless times now I've heard people liken this tragedy to living in a nightmare, constantly praying that someone will come and wake them up. Unfortunately, we can't know when that will be. With fierce winds and low humidity spurring it on, this fire has grown into one of California's worst natural disasters in recent history.
Selfless firefighters, brave police officers, and caring volunteers are working tirelessly through the days and nights to help those who have been displaced and lost everything. I encourage all of you to do your part in the matter of immediate relief, but I'm writing this for two separate reasons. Too much gossip and fake news has been circulated in the midst of all this—which is no surprise given the challenges in communication people are currently facing. So I will document the Patland family's experience from start to finish. Straight from the horses mouth.
On Sunday, October 8th, Natalie and I were returning to Napa from a friend's housewarming party in Sunnyvale. We arrived at the gate to our home on Soda Canyon Road, and just before heading through, Natalie said, "You know, before we move next weekend, I want to drive to the end of Soda Canyon Road just once. I want to see the rest of it." I turned the car around and we set off into the hills. We were shocked by all the beauty and green foliage that had neighbored us for so long. We never really took the time to go and see it.
As fate would have it, that night everything would change. Natalie was working her shift at Palisades Saloon, and I had joined my parents for dinner at Eiko's. Just after ten o'clock, we were returning home when we saw a glowing light atop the mountains to the East. The entire ridge that paralleled Silverado Trail was ablaze. Quickly we realized how close that fire was to the Patland Estate, and we rushed to make it back. Not thinking clearly, and hoping for just enough time to salvage something! A third of the way up Soda Canyon, a tree had fallen across the road and there was no way of getting around. We had no choice but to turn back. My dad pulled over in the nearest parking lot, and we watched. In all our shock and the chaos that was breaking out around us, there was nothing more we could think to do but watch.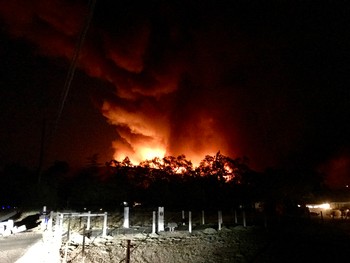 Minutes later, it occurred to me to call our neighbor and notify him of what was happening. There was no warning of the fire, so there was little time for him to evacuate. When he finally did escape safely, he shared with us a video of the flaming tunnel through which he had to drive. We are so grateful he was able to make it out alright, and that we were already safely on the sidelines. Again, our hearts go out to those that were less fortunate.
Next, my dad pulled up the security feed from the estate on his iPhone. It was like a horror movie—terrifying, but unyielding of your attention. We watched the flames climb up the driveway. We then saw them envelop the grape vines and foliage that adorned the front of the estate. Soon enough, the camera feed gave out, and that was it.
My parents returned to their home in Los Gatos to recoup. Natalie and I drove to her parent's farm--Impossible Acres--in Davis and spent the night there. Several days ensued of stress, exhaustion, and confusion. Without knowing for absolute certain, we were fairly sure that everything had been lost. One thing after another would remind us of the things we used to own. For Natalie, the worst part was not knowing. We were stuck in limbo unable to even think about the next steps we needed to take because we simply didn't know what was left. I refused to return to Napa for several days because of the hazardous air conditions, and the constant news of growing fire threats.
On Wednesday, Natalie and I finally returned to Napa and met with police officers at the Knob Hill blockade. They told us that they had stopped taking residents past the road blocks two hours ago, because they needed all available personnel to help evacuate Calistoga. We left Napa again to spend the night with friends in Sacramento, and returned early in the morning to see if they were conducting police escorts once again.
We left our backpacks and respirators in the car, thinking we would first go and ask for a status report. However, we got lucky and an officer was available to take us back to Soda Canyon just as we stepped up. There was no way we were going to risk this chance, so we got in the police car and left.
As we drove through Soda Canyon, we were shocked by the level of destruction. Nothing to see out the window but chimneys and smoldering car husks. Downed power lines and smoking tree trunks littered the road. Every few miles a team of firefighters was working to clear and make safe a new area. The drive to our home had never felt so long. It had never looked so different.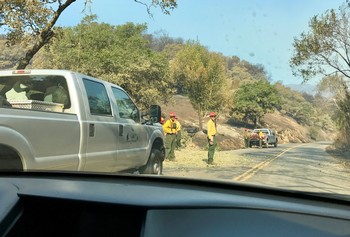 Once we arrived at our gate, we saw that our bridge had also been burned. Only it's metal skeleton remained, and no car was going to cross it. We pleaded for the officer to let us hike up to the estate. She kindly agreed to escort us up, although she had no idea of the trek she had just signed up for. We walked for about a mile, trying our best not to breathe too deeply. The smoke was thick, and all around us was scorched dirt and melted street reflectors. Finally, we made the turn and could look up to see Terra Del Cuore—the Patland Estate. For a second, we thought it had survived, and then we realized that we were seeing blue sky through the windows of the upper floor.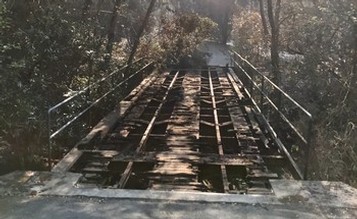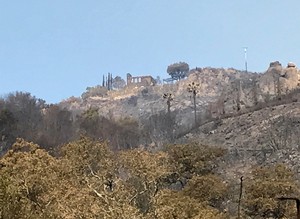 As we continued, we saw our neighbor's home had been reduced to ash, and we could only hope to find something better when we arrived at ours. We found our gate was left open, and power lines hung from it, strewn all across the gravel roadway. As we carefully stepped past, the first miracle was that my own and my mom's cars had survived! Parked on the gravel in the center of the property, they were covered in ash, but otherwise entirely untouched. When we looked left though, we saw that the Caretaker's House—where Natalie and I lived—was not as lucky. The three story building had collapsed on itself, taking with it three of my father's most treasured cars, his Ford GT, Ferrari 16M, and Ferrari Speciale.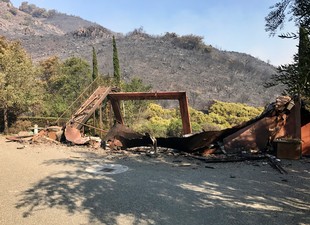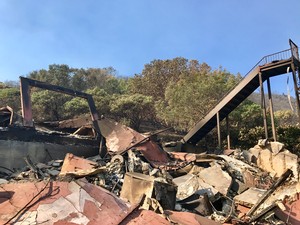 We had little time at the estate, since there were still many others waiting for their chance to return home. There was no time to mourn or to dig; we simply documented with our phone cameras and moved on. The second miracle was that the Guest House was entirely safe! It's almost as if it were inside a bubble the entire time. As we continued up though, we then discovered what was left of the Main House. The stone walls that made it's foundation still stood, but everything else was gone. The bedroom, garage, and even the floor of the second story had burned. The pool was black with dirt and ash, and the view we'd all come to love was now overtaken with plumes of black smoke.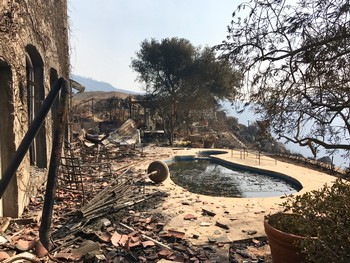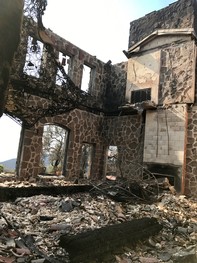 Finally, the third miracle was that the wine cellar and all its contents seemed to survive. No leaking bottles and no pushed out corks. Thank God for wine caves!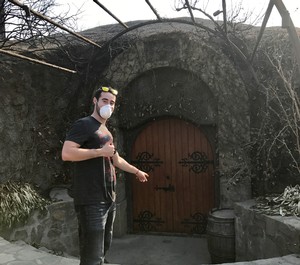 We profusely thanked our police escort, and returned to our car. A wave of relief overtook us. Finally knowing, and even finding a few things that survived was heartwarming. In times like these, all you can do is plan for the worst, and hope for the best.
So that is the first reason I'm writing. I wanted to clarify our story. The next question is: Where do we go from here? I've said this many times in the past week. Our story is only just beginning. We have many more chapters to write. We will rebuild, and we will come out better and stronger from it. We will link arms with our neighbors and do what we can to help those that were less fortunate than us. We hope you will help us.
This brings me to the second reason for writing this. I am overwhelmed by the love and support that has been offered to my family and my community. Everyone is asking how they can help, and I've been thinking a lot about that. The focus now is on immediate relief and safety—as it should be! But there will be long term repercussions of this tragedy, and that is where I feel all of you can help. The local economy of our wine country relies on tourism, the production and sale of wine. We are already tallying our losses, and for many the future is beginning to look grim. Wineries were burned down, and that means a lot of people without jobs. Tour services and drivers are seeing cancellations left and right. Future vintages have been compromised. There is so much destruction that is being left in the wake of these fires, but at the end of the day, our economy relies on you. Wineries of all sizes and the people they employ are all relying on you now. If you stop coming to Napa, stop hiring drivers, stop purchasing wine, then this is something many people may not recover from.
Just yesterday, after returning from the wreckage of our estate, Natalie and I went into Knob Hill to get some water. I ran into one of our favorite Tour Driver partners, and she was so happy to see that we were okay. Within minutes though, she was in tears. Her company had about three groups booked per day until the end of November, and all of them had cancelled. This women's livelihood is now in jeopardy.
So I'll ask you point blank, don't abandon the Napa Valley. We will recover faster than you think. Hire tour drivers. Book winery tours. Eat at your favorite restaurants. Buy your favorite wine. Together we'll get through this.

Millions of tourists take in the idyllic splendor of Napa Valley each year. And seldom is the visitor who does not fantasize about becoming a winery owner. Yet the reality is stark. As the local joke, oft repeated has it: "If you want to make a million in the wine business, start out with three."
When Henry and Olga Patland visited Napa, they too fell in love with the region and gradually developed a determination to pursue their passion for wine.
Henry Patland's family (two grandmothers, his parents, a sister, and himself) emigrated from Ukraine in 1978. They arrived in California in 1979, when he was just 12 years old. Five years later, he entered UC Santa Cruz, where he studied computer engineering and met his future business partner, Wade Ogle. Together, they would build an innovative high-tech business, Integral Solutions. The success of that company would ultimately finance Henry's other passion, wine.
Olga's family also emigrated from Ukraine, and she and Henry met in college, where she had pursued degrees in communications and marketing. They married in 1989. In the late 1990s, with the stresses and demands of starting a business and a family in tandem, the only vacations Olga and Henry could afford were the day visits to nearby Napa Valley. They quickly learned to appreciate great wine, but did not have enough funds to acquire it. They frequented small vineyards and artisanal, "mom and pop" wineries; the brands which were completely hands-on. Over the years, they watched the evolution and the success of such businesses. They were intrigued, inspired and infatuated, and they began to dream of owning their own winery.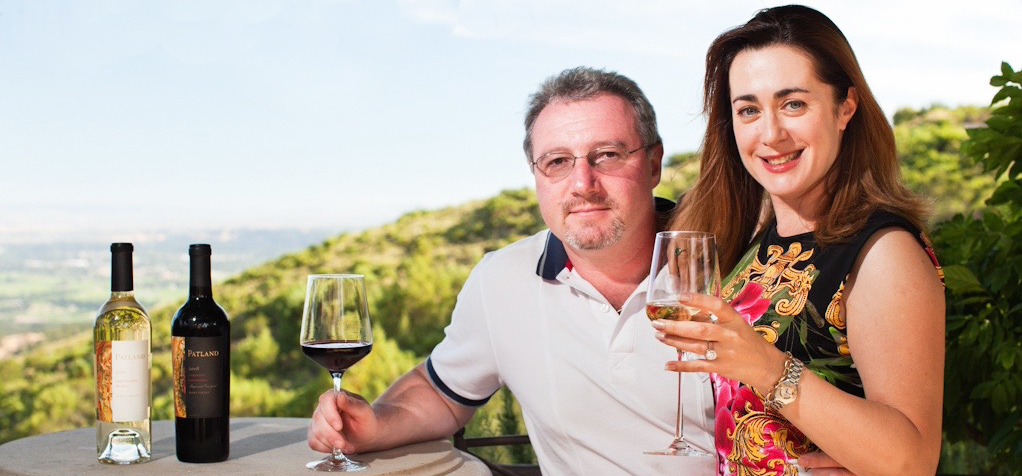 Then, in 2007, Henry received an offer to buy his company. By fateful coincidence, during that time, he and Olga also discovered a Soda Canyon vineyard, "Terra del Cuore" (Italian for "Land of the Heart") True to its name, it captured their hearts. It was, for them, the perfect property.
Atop a terraced mesa, on 36 acres at 1600 ft. elevation sits a troika of breathtaking, Mediterranean-style houses. The expansive views stretch as far as San Pablo Bay and Mt. Diablo. The grounds include fruit (such as pomegranate) and olive trees, cypresses, and oleander. Flowerbeds and vines further enhance the landscape. The property held massive untapped potential.
However, the offer to buy Integral Solutions fell through. Undaunted, the couple was so captivated by the site that they knew that there was no turning back. They acquired Terra del Cuore from Jack Daniels, founder of Wilson-Daniels, who was relocating to Cabo San Lucas.
Their first task at hand was hiring a winemaker who understood their vision and the challenges at hand. Henry sat down with their vineyard manager, Javier Renteria, and told him that he was looking for a winemaker. Javier asked what kind of wine Henry wanted to produce. His answer was, "bold, complex, rich, layered, delicious, smooth, balanced, Napa Valley-style wine."
"I know the right guy for you!" Renteria responded. That guy was Jay Buoncristiani, previously the head winemaker at The Hess Collection.
So, in 2007, Patland Estate Vineyards was born. At the time, the property was planted to international varietals, such as Merlot, Petite Syrah and Sangiovese. The original estate blends, crafted in 2007, were made with those grapes. The following year, the coincidence of a trip to South America and their winemaker's recommendation to convert the winery's acreage from these varietals to Malbec led to a replanting effort.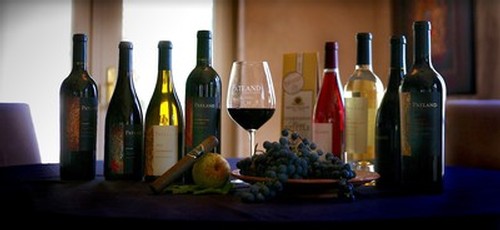 Today, 100 percent of Patland's boutique estate bottlings are made from Malbec. Initially they planned to only make red wine. They wanted to produce the fine wines their younger selves had wanted to drink, but could not afford. However, today they also produce Chardonnay, Cabernet and Sauvignon Blanc from grapes sourced from several vineyards in Napa.
At the same time, the estate's branding began to take shape. Their eldest son, Michael, created labels inspired by paintings the family acquired from a Bay Area artist who was originally from Croatia. Then a trip to Jerusalem yielded a momentous find, a silver coin that dated to 67 C.E. and had the image of a pomegranate on one side. Their Napa property had come planted with a number of pomegranates, which reminded Henry of Ukraine. Olga decided that the fruit would become a central symbol in their wine packaging. Now, the image of the coin is embossed on the front label of all their wines.
Many wineries strive to create highly coveted, small production, hard-to-find wines that sell direct to consumers. The Patlands currently produce around 2500 cases per year and plan to cap production at 5000, which makes for adequate scale, yet keeps the operation small enough to hand-craft the wines. In his own words:
Patland Estate Vineyards started as a labor of love. My wife and I found ourselves with the amazing opportunity to start making wine, and we were determined to make the best wine we could. While we hoped everyone else would enjoy Patland wines, our highest priority was to make wines that we ourselves would be proud to drink. Since we began, I've been pleased to see great interest and involvement from my children. As a result, what began as a hobby has now transformed into a real family business. We hope that the future will involve many more generations of the Patland family, and that soon the name will sit among the Napa Valley greats.
Their son Michael has taken an active and avid interest in the business, designing an exceptional visitor experience. Customers can taste in the Caves at Soda Canyon, where the wine is actually produced. Or they can select a tasting at the Patland Estate – Terra Del Cuore. Regardless, the setting is always gorgeous. The wines are delicious and selected based upon the guests' tastes and the season. They strive to add a "personal touch."
But, in the end, it is all about the wine. And Patland Estate Vineyards has received numerous awards and excellent industry recognition, attracting the attention of savvy wine aficionados. Their limited production, handcrafted wines, are beautifully made, true to their varietal character. The couple's persistence and passion have paid off.

I always say, "Good wine isn't good wine. Different wine is good wine." For me, the fun of wine isn't always about how much I like whatever is in my glass, rather it's about learning and experiencing something new. In fact, my friend and I once finished half a bottle of badly corked wine just so we'd never forget the taste! I'm not talking about corked wine right now, though. Instead, I want to talk about the Patland Rosé. I think we can all agree it is not a typical rosé.
My guests always ask me what my favorite wines are, and while my answer probably changes every month, our Rosé always seems to make it into the Top Three. Why? Because it's so surprisingly different!
Most people when they think about rosé wine have an image in their mind of pinkish, salmon-colored wine. It's usually light in body—almost airy, and floral on the nose. It also tends to say 'Provence' on the label. The reason for that is that the French invented a winemaking process specifically for rosé production called 'Saignée'—meaning "bleed off".
Nowadays, Saignée is a widely used method of making rosé around the world, so you're just as likely to see a Provence-style wine in Napa as you are in France.
Before I tell you about how the Patland Rosé is made, I want to make sure you understand this Saignée process. So let's take a few steps back… You're standing out in your vineyard. You taste your Pinot Noir and it's at that perfect level of ripeness, so you give the go ahead to pick it. The harvest starts early in the morning, and by noon you've got all of your fruit at the winery. All your grape clusters are sitting in this big, plastic container, and then you go ahead and dump them into a de-stemmer. Whole clusters go in, and berries come out. The berries are now vibrating down a sorting table, where a few people are picking out the underripe berries, the raisins, the leaves, and other non-berry objects. As the berries reach the end of the sorting table, they are then redirected into a fermentation tank.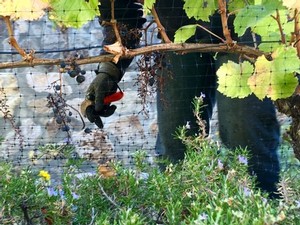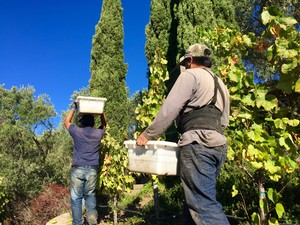 The berries will then sit in this tank—crushing each other—for seven to fourteen days. As the fruit weighs down on itself, the berries will naturally break and start to release juice. That juice is typically the bulk of the finished wine, and it is directed into barrels for aging. The rest of the berries are put into a basket press, and the juice pressed off from there is also put into barrels for aging. Later down the line, the winemaker will taste the different barrels and decide which ones he wants to blend and how in order to make the final product.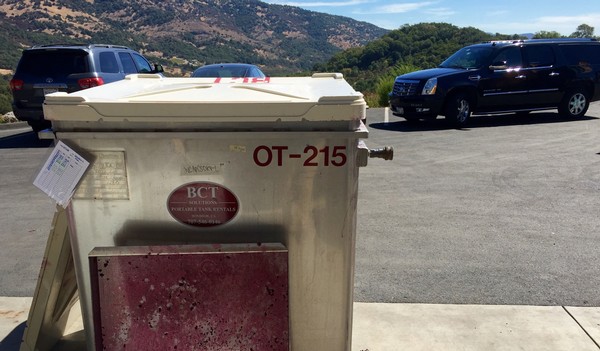 So where does the rosé happen? It happens right after the fruit is put into the fermentation tank. You are literally 'bleeding off' the juice from that tank. The sooner you do it—the less time the juice has had to extract color from the skins—and the lighter the color of your rosé. (Note: The inside of red and white wine grapes look the same.) If you bleed off the juice a little later, you'll have a darker rosé. If you do it right away, you'll have a light-colored, Provence-style rosé.
Hopefully now that you're clear on the classic method of rosé, we can talk about how Patland does it. Many wineries that make a Saignée style rosé are essentially using the by-product of a red wine they're making to produce a second wine. For Patland Estate Vineyards, we actually source fruit specifically for our Rosé wine. Typically we use a blend of Syrah and Malbec, but for the sake of simplicity, let's just pretend it's 100% Syrah. When our fruit comes into the winery, it doesn't get dumped into a de-stemmer. Instead, whole clusters are placed into something called a 'Bladder Press'. A Bladder Press is called that because it essentially has a big balloon on the inside, that is slowly inflated. As the balloon expands, it applies more pressure to the whole berry clusters and pushes them against the sides of the tank. Now this entire process can happen very quickly—the clusters are pressed, the juice is released, it's directed into a stainless steel tank. Or it can happen very slowly, in which case the juice that's being released actually has a lot more time to intermingle with the berry skins. For the Patland rosé, this process happens very slowly, resulting in a highly extracted rosé!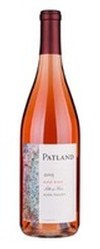 If you've ever had a glass of Patland Rosé, I'm sure you've noticed its color in the glass. It's a very deep pinkish-red. When I say 'extracted' though, I don't just mean the color. The aromas are jumping out of the glass too! You can actually smell the fruit on this wine without picking up the glass. Of course, it's also one of the juiciest, most luscious rosés I've ever tasted, and you'll taste it for a good while after you swallow too! This wine really lingers.
So I hope you now have a slightly better understanding for how rosé is made, and please feel free to comment if you have any questions.
Of course, I also invite you try a glass of Patland Rosé. We're just about to officially release our 2015 vintage and it is delicious! Visit our website or email me to order your wine today. Cheers!

In today's race toward sustainability, some people are thinking very literally...
In 2012, Rafael de Mestre took home the record for fastest time around the world in an electric vehicle. Now, in 2016, eleven international teams are competing for the title. More importantly though, each of these teams is an ambassador for the EVolution of transportation, helping us transition all the sooner into a sustainable future.
Patland Estate Vineyards was fortunate for the opportunity to host Team China on their 80 e-Day Journey. On July 8th, as Team China drove to make history, they stopped off for a bit of R&R at Terra Del Cuore. It was great to mingle with our friends in China, and also to share with them a bit about what makes Napa Valley so great.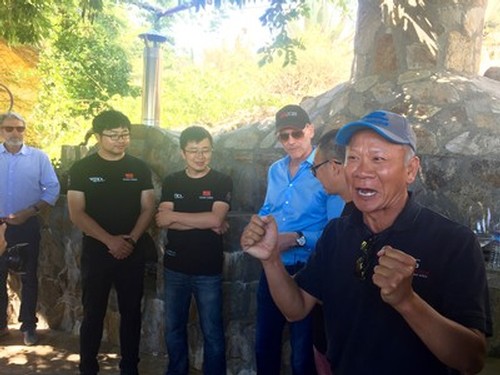 While on their trip, a very interesting car happened to join Team China--the first fully electric Ferrari! Of course, Henry Patland couldn't resist but to break out his own 2009 Ferrari 430 Scuderia Spider 16M. In addition, Henry invited his friends at Ferrari Owner's Group (FOG) to join the welcome party! Some of you may know that FOG is a charitable foundation working closely with Make-A-Wish Foundation. As such, a portion of the proceeds from the event and a sizable donation from Team China went directly to Make-A-Wish Foundation.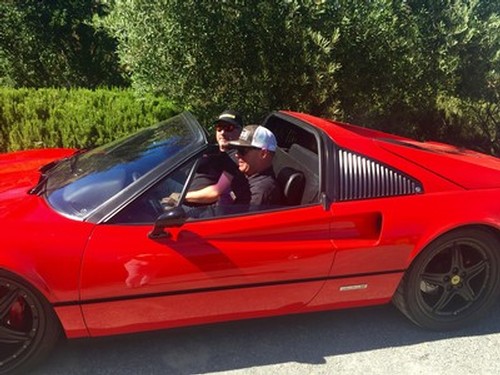 Helping children. Making history. Driving cars. Not a bad way to spend an afternoon!
For all you car enthusiasts out there, watch the video above to learn a little more about the world's first electric Ferrari!

If you've ever been to the Patland Estate, then you've seen the olive trees. It's a Tuscan-style estate, so it's no surprise the place is littered with them. There's even an olive orchard hidden on the backside of the property.
In 2007, our first year of wine production, we also made olive oil! It was delicious, and ever since, people have been begging us to make some more. Well, this year we finally listened!
We are pleased to bring you 100 bottles of Patland Olive Oil this year. Yes, that's all. Exactly 100 bottles were produced from the estate, and most of it is up for grabs. Click here to order your bottle.

As many of you read in our newsletter, Patland Estate Vineyards returned to Premiere Napa Valley this year. We aimed to make a big splash, and it sure looks like we did! Patland was poured at three different preview events, and then, finally, at the main event itself. We got some great exposure, a ton of compliments on the wine, and best of all, we helped Napa Valley Vintners raise FIVE MILLION DOLLARS to benefit the Napa Valley.
On February 18th, Patland Estate Vineyards participated in NG: Next Generation in Wine's annual trade tasting. Hosted at Farmstead Restaurant in St. Helena, this event was a huge success! The following morning, Patland went on to pour at a private trade event hosted by PEJU Province Winery. Pouring alongside some wonderful vintners, like Lisa from PEJU and Eddy from Amizetta, this event was a lot of fun! Just hours later, the Patland team was back at the estate to partner with Buoncristiani Family Winery for a very special preview party. Nearly the entire wine lineup from both wineries was featured, and it was a pleasure to have winemaker—for both wineries—Jay Buoncristiani present to talk about his wonderful work.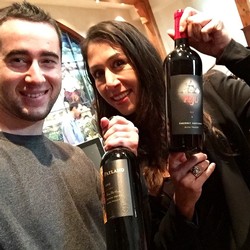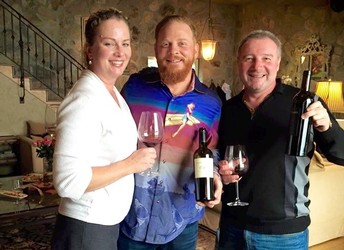 Following a fun couple days, it was time for the main event! Bright and early, Michael and Henry Patland drove up to the Culinary Institute of America to showcase an extremely limited and unique wine. Hear Jay tell you a little about it in the video above.
In 2015, deer made their way onto the Patland Estate. Having only a few acres planted, it wasn't difficult for those deer to fill up on almost ALL of our fruit! There was so little left over, in fact, that Michael and Jay were able to hand de-stem all of it—not a common practice anymore. All that Malbec, and we were able to fill up about a tenth of a barrel! With so little fruit, Michael decided to have a little fun. He called his girlfriend over, and asked her to crush the fruit…with her feet! Her very own I Love Lucy grape stomp.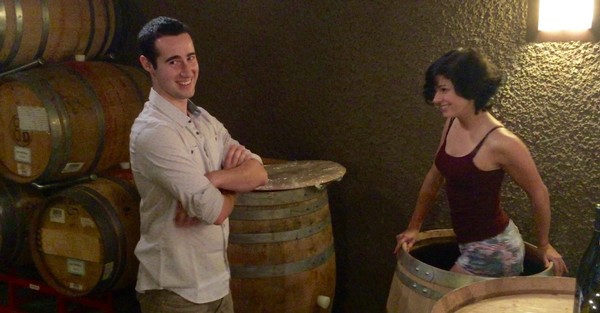 The remainder of that barrel was filled with Malbec from Stagecoach Vineyard. That Malbec was later blended with a little bit of Cabernet Sauvignon to create a delicious 2015 bottle sample. That sample was then poured at Premiere Napa Valley. Out of 200 wineries, this was one of four Malbecs poured and possibly the only 2015 wine on the floor! Trust me when I say, it made an impression!

After pouring at STARS of Cabernet 2015 this year, Patland Estate Vineyards was invited to speak on What's Cookin' on Wine CRNTalk Radio. Listen here to to hear Michael Patland and Nicole Nielson discuss the latest in Patland wines.

Sorry! No video on this post.
You may have noticed, most of these articles are written somewhat impromptu. Usually I'll wait until something interesting is going on, and break out my camera phone to capture it. Well today something interesting happened, but it wasn't an appropriate time to start videotaping. Regardless, I wanted to share this with you.
People constantly ask me about our wine label. What it means? What inspired it? Where it came from? It's always my pleasure to tell people. The art that makes up the left side of each label was done by a Croatian artist named Dzemal Emric—a family friend and my art teacher from when I was young.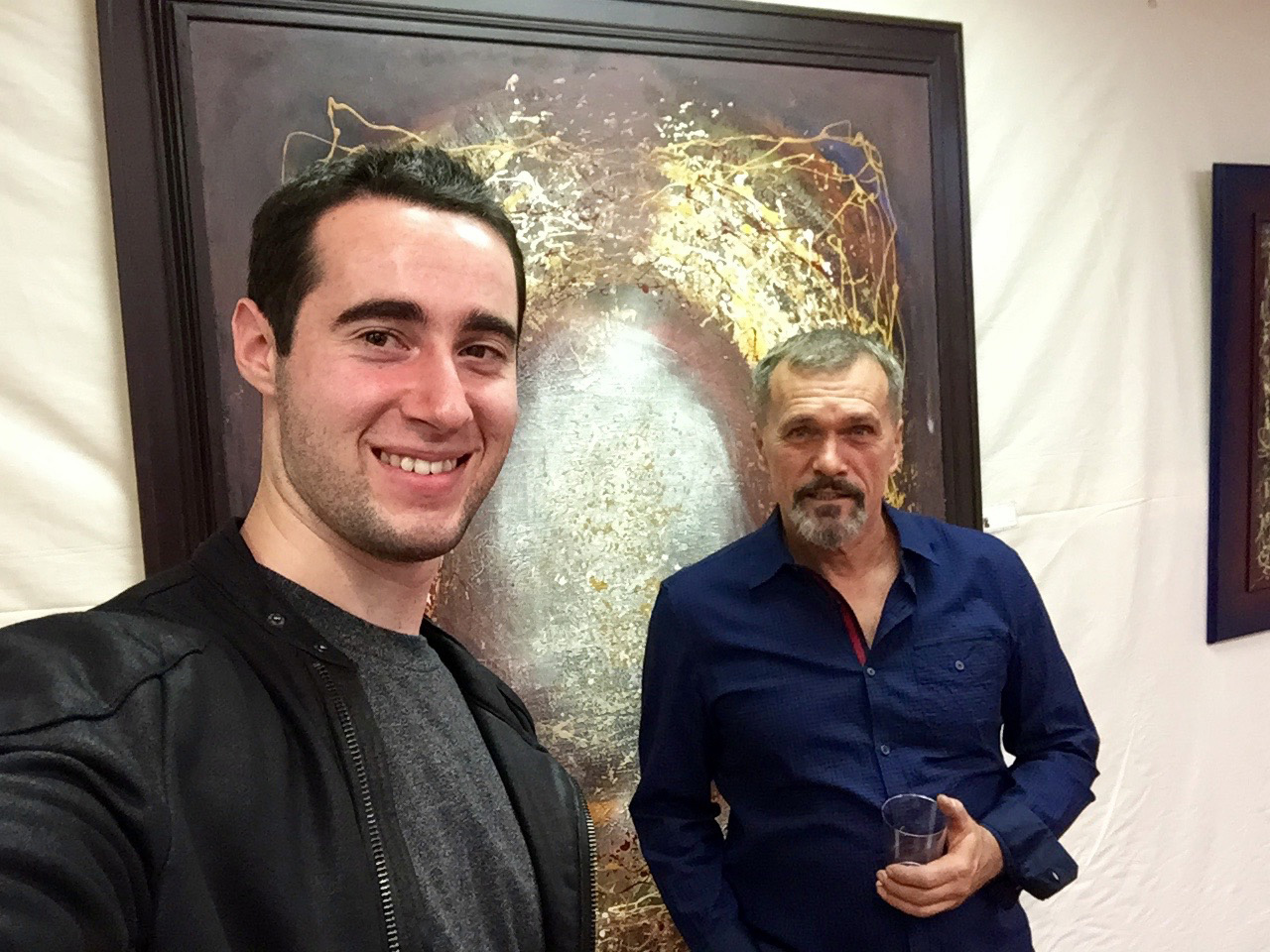 Today, Dzemal hosted an art exhibition in San Jose. It was a small and intimate gathering where I was able to reconnect with an old friend and teacher. Dzemal and I spoke about our artistic processes, philosophies, sources of inspiration, and much more. These were all things that I hadn't deeply thought about in many years. At one point in our conversation, Dzemal recalled what I was like as a child artist. He told me that I displayed such passion, that I stood out from the other kids… He remembered how much I loved art—drawing, painting, etc.
Now I never abandoned art. No. I've said many times, that instead I found art in a new medium. I saw it in wine, and I embarked on a new journey to understand and master it. But in the last five years that I've immersed myself in wine, my previous means of artistic expression was put on the back burners. This show, however, and these conversations I had with Dzemal, they brought something back. I was reminded how wonderful it was to see the world through the eyes of an artist.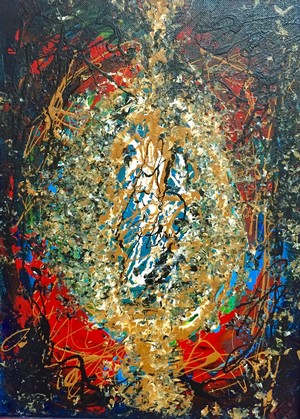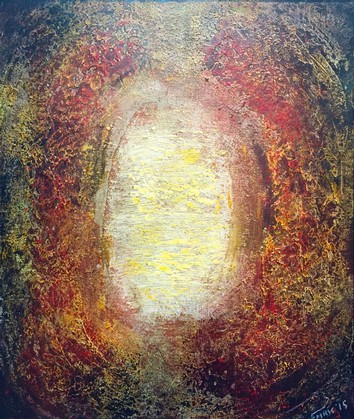 Seeing the world in that way means never taking anything for granted. You appreciate beauty everywhere that you may find it. As Dzemal said, one of his paintings was inspired by a book about the ocean. Another was inspired by the intricate decorations on the hats worn by old ladies in his homeland. And several more were inspired by the colors and energy of the Fall season. Too often people are blind to the beauty in front of them. It's important to step back and look around.
Before I left, I went to say goodbye to Dzemal. He had one last thing to show me. While everyone in the room stood facing the four walls, contemplating all the abstract paintings, Dzemal pointed at the coffee table in the center of the room. I was confused. He showed me the stone tile table top. He showed me the sanded wooden frame around the table top. He showed me the four gold leaf legs of the table. It occurred to me: While everyone tried so hard to understand the paintings on the walls, no one had the vision to see the artwork in the center of the room…
Step back and look around people!

December is obviously a very special month. You've got all sorts of fun winter holidays and then finally the new year! This weekend though, we celebrated the most important day of December, the one that puts all others to shame…
Our Mothers' Birthday!
We did it in classic, Napa Valley style. A three part day of celebration, we began with lunch at one of our new favorite downtown places—Atlas Social. This is one of the best tapas restaurants we've ever eaten at, and we've been to Spain a couple times… If you get the chance to go, do what we did. Before you even sit down, order one egg for everyone at the table. Perhaps their most popular item, the "egg" is a soft boiled egg, fried in panko crumbs, and served on a bed of bacon jam. The interplay of textures and flavors makes this one of the most unique and satisfying starters we've ever tried. Oh, and two bottles of Patland Rosé didn't hurt either!
Second, we drove our mothers to one of our neighboring wineries—Darioush. There we were met by an extremely knowledgable, enthusiastic, and entertaining tour guide. Jameson took us through about seven delicious wines, the group favorites being the Viognier and Shiraz. Next, we went down below the tasting room to tour the estate. Architecturally speaking, this is one of the most impressive wineries you can find around the Napa Valley. Not to be missed on your next trip!
Lastly, everyone returned to the Patland estate for a brief respite. After just an hour of rest, Chef Munther showed up at the door! Munther is first and foremost an amazing friend, but he is an equally amazing and talented chef. He drove all the way up to Napa to give a private cooking lesson to our moms. After several hectic hours in the kitchen under his tutelage, we had a mind-blowing three course dinner on our hands.
Stuffed Main Lobster Tail
Herb Goat Cheese Stuffing, Prosciutto Wrapped. Served Over Olive Oil Braised Baby Root Vegetable, Lemon Champagne Bure Blanc, Balsamic Glaze, Blood Orange Basil Infusion
Duck Confit Salad
Warm Currant and Syrah Braised Cabbage Salad, Fresh Pomegranate Reduction
Pistachio Crusted Lamb Rack
Basil Infused Fingerling Potatoes, Braised Lemon Kale, Roasted Corn and Saffron Flan, Red Wine Garlic Pan Sauce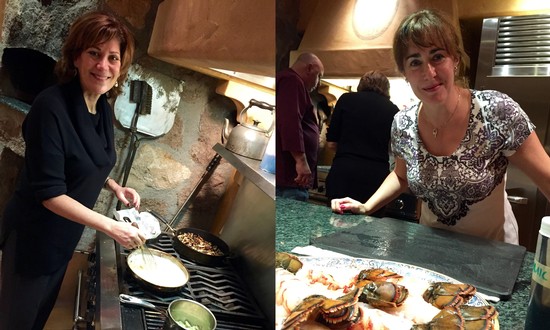 To top it off, we paired an inspired selection of wines to the three dishes…
Bremer 2004 Chardonnay
Kosta Brown 2012 Pinot Noir
Patland 2013 Reserve Cabernet Sauvignon
So if you're looking for some food and wine pairing ideas, by all means, take a page out of our book. You won't be disappointed! After all, the moms weren't…
Happy Birthday Olga Patland and Barb Chappell