The Beginning

"Rarely is it that someone visits the beautiful and tranquil Napa Valley, without imagining themselves leading the life of a winemaker. There is something wholesome and true about making wine."
Twenty-five years ago, when Henry and Olga first came to Napa as a young couple, it was no different. They could not escape the lure of this charming land, and so they returned, year after year. The welcoming atmosphere, the wonderful wine, the laughter, and the beautiful scenery just kept bringing them back.

On one occasion, they visited a small wine cellar, where the owner himself was pouring wine for the visitors; no other employees in sight. The wines they tasted were excellent, and so the little vineyard became a must for the pair on each of their visits. Little by little, they saw the transformation the winery underwent, from a small, dark cellar to a magnificent estate--a heaven for wine enthusiasts and art lovers. That winery became an inspiration for them. Motivated by what they saw, they began looking for a way to turn their dream of winemaking into a reality. After several years of searching, they finally found the gem they were looking for; a place that spoke directly to their hearts: The beautiful and serene Terra Del Cuore, which translates from Italian as "Land of the Heart."
Once the idea of winemaking truly took root, the next step was to decide on what wines to create. The Patlands, always being fans of the traditional, heavy and full bodied Napa style red wines, decided to create exceptional, distinctive red wines they themselves would enjoy.
About Henry and Olga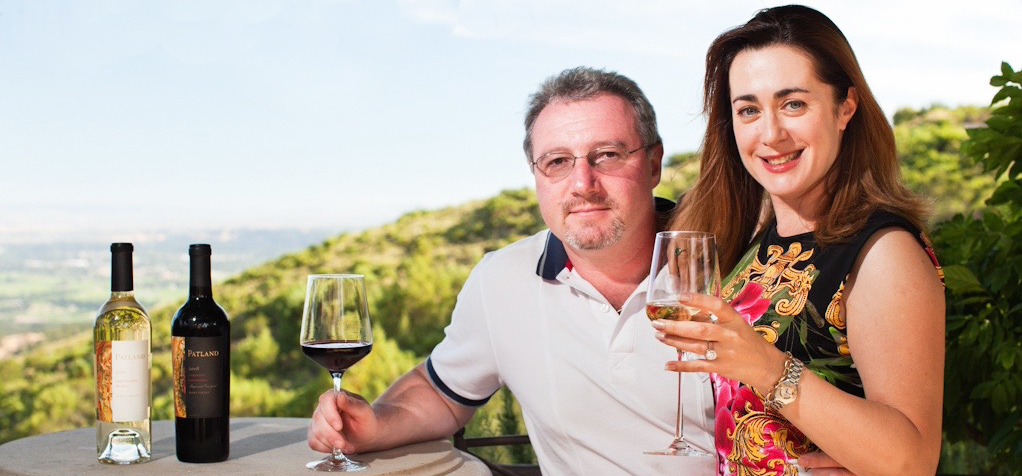 In 1978, Henry immigrated to the United States with his family from the Ukraine. Living during Soviet regime, he understood early on the value of hard work. He found his first job in the states at the age of twelve, delivering newspapers at night and going to school during the day. Henry graduated from Washington High School in San Francisco and continued his education in UC Santa Cruz in Computer Engineering. During his second year, he met Olga, who had only recently immigrated to the United States from Israel. She, too, was also born in the Ukraine, but spent her teenage years in Israel. Olga later graduated with a degree in Multimedia Communication and Graphic Arts. Two years after the birth of their first son, Michael, Henry co-founded a High Tech company in Silicon Valley. Olga then gave birth to twins, Felix and Kevin. While raising her three boys, she maintained her work in publishing. And while the dream of a winery was put on hold, it was never too far from their hearts. In 2007, Terra Del Cuore was purchased and Patland Estate Vineyards was established. In 2010, the first PEV wines were released.

Today, Henry and Olga, together with their three sons, the support of their family, and the exceptional talent of Jay Buoncristiani, have taken Patland Estate Vineyards to a great start, and continue to reach new heights.