2 Wines + 2 Steaks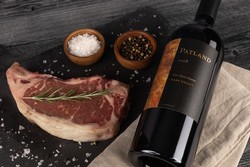 A Limited Time Partnership
In 1852, Andrew Swickard and his wife Susannah arrived in California and established a ranch that would one day be called Five Dot Ranch. Today, seventh generation owners Todd and Loretta Swickard maintain the great legacy of this place as purveyors of premium pasture-raised beef.
When Five Dot Ranch began to set roots in Napa Valley, their product soon caught the attention of the Patland family. As much as Henry and Olga pride themselves on Patland Cabernets, it's no secret that they can always be made better with quality steak nearby.
So it is with great excitement that the Patland and Swickard families bring you this limited time partnership, to bring you the best of both wine and beef!
2018 "Select Barrel Reserve" Cabernet Sauvignon Tasting Notes:
The slightly older twin brother of our flagship Cabernet Sauvignon, this one is made from our winemaker's favorite barrels. Just as intense as its little brother, this wine boasts aromas and flavors of bing cherry, black currant and black plum. The greatest difference lies in the nature of the tannin. While our flagship Cabernet possesses pronounced fine grain tannins, this one comes across more smooth and supple. From its high toned cherry cola aromas to its lush mid-palate of ripe black fruit, all the way to its long cocoa dust finish, this wine is the perfect example of how bold flavor, complexity and finesse can come together to make a wine that truly justifies the Napa Valley's acclaim.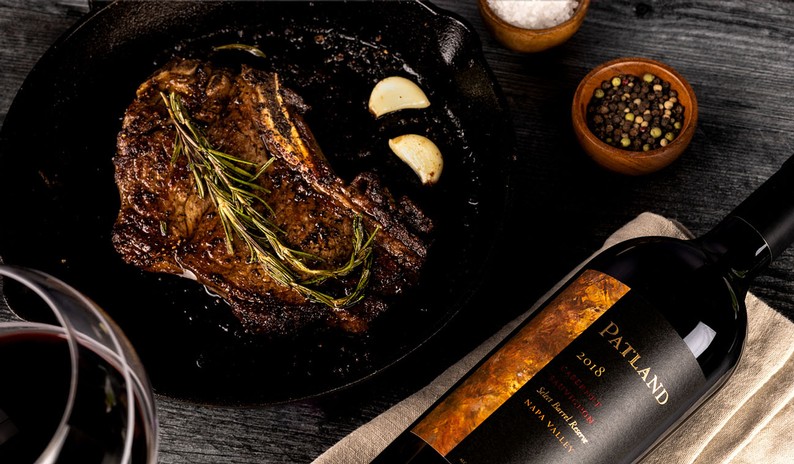 "A steakhouse classic known for its juicy and intense flavor profile, our Bone-In New York Strip Steak is a customer favorite! This steak is cut from the beef short loin, which is a particularly tender section of the cow.
Why bone-in? Typically you'll find this steak offered as boneless, which is also a great choice, but what the bone provides is insulation while cooking, which allows the steak to retain moisture and juiciness. Cooked properly, this steak is the ideal compliment to the bold nature of a Napa Valley Cabernet."
- Five Dot Ranch
Product Reviews