2017 Blanc Caché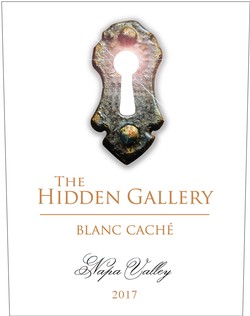 In the Old World regions of the wine world, it is commonplace to give credit to the place in which a wine was produced, rather than the grape it was made from. For that reason, the French would refer to a wine as a White Burgundy, instead of a Chardonnay. This system works because of the regulations in place that largely prohibit the growing and blending of particular varieties in certain places. As a result, you would be hard pressed to find a French blend of Burgundy's Chardonnay and the Northern Rhone's Viognier.
Here in the Napa Valley though, we are encouraged to experiment. Our culture promotes new ideas and the discovery of great new wines. For that reason, we stray from the crowd and endeavor to find the next great blend. Never knowing what that blend might be, or what a vintage may hold in store for us, we choose to call our premiere white wine: Blanc Caché—the Hidden White.
Wine Specs
Vineyard Designation
Stagecoach Vineyard
Wine Profile
Tasting Notes
This vintage of Blanc Caché is made up of only Chardonnay and Viognier. Both grape varieties lend a unique character and flavor profile to this composition. As always, the Chardonnay forms a sort of foundation for the wine. Unlike previous vintages in which the Chardonnay was riper at harvest, this time around it comes off much lighter. Bright acidity from its Rhone counterpart, and generally low sugars across the valley, brought a refreshing levity to this wine. Rather than the usual Fall inspired spices, this vintage welcomes you with freshness and spice! At first, jasmine, white pepper and sweet pine, which then fall to the wayside for crisp, young fruit. Asian pear, white peach, and star fruit rise to the top, and are then tempered by subtle, sweeter aromas of apple-scented soap, pineapple lifesaver and fruit loops. On the palate, you'll experience a round, slightly oily consistency. As a result of that weighty mouthfeel, pronounced flavor, bright acidity and ginger spice, you can expect this wine to linger a while. Fresh, spicy and bright… this wine would be an ideal pairing with your favorite sushi or sashimi. It certainly wouldn't shy away from a dash of wasabi.
Production Notes
50% Chardonnay / 50% Viognier
Production
70 Cases Handcrafted
Product Reviews