October 14, 2017 | Michael Patland
Patland Vineyards and the Atlas Peak Fire
As many of you know, devastating fires continue to sweep their way through our precious wine country. The experience has been absolutely surreal. Countless times now I've heard people liken this tragedy to living in a nightmare, constantly praying that someone will come and wake them up. Unfortunately, we can't know when that will be. With fierce winds and low humidity spurring it on, this fire has grown into one of California's worst natural disasters in recent history.
Selfless firefighters, brave police officers, and caring volunteers are working tirelessly through the days and nights to help those who have been displaced and lost everything. I encourage all of you to do your part in the matter of immediate relief, but I'm writing this for two separate reasons. Too much gossip and fake news has been circulated in the midst of all this—which is no surprise given the challenges in communication people are currently facing. So I will document the Patland family's experience from start to finish. Straight from the horses mouth.
On Sunday, October 8th, Natalie and I were returning to Napa from a friend's housewarming party in Sunnyvale. We arrived at the gate to our home on Soda Canyon Road, and just before heading through, Natalie said, "You know, before we move next weekend, I want to drive to the end of Soda Canyon Road just once. I want to see the rest of it." I turned the car around and we set off into the hills. We were shocked by all the beauty and green foliage that had neighbored us for so long. We never really took the time to go and see it.
As fate would have it, that night everything would change. Natalie was working her shift at Palisades Saloon, and I had joined my parents for dinner at Eiko's. Just after ten o'clock, we were returning home when we saw a glowing light atop the mountains to the East. The entire ridge that paralleled Silverado Trail was ablaze. Quickly we realized how close that fire was to the Patland Estate, and we rushed to make it back. Not thinking clearly, and hoping for just enough time to salvage something! A third of the way up Soda Canyon, a tree had fallen across the road and there was no way of getting around. We had no choice but to turn back. My dad pulled over in the nearest parking lot, and we watched. In all our shock and the chaos that was breaking out around us, there was nothing more we could think to do but watch.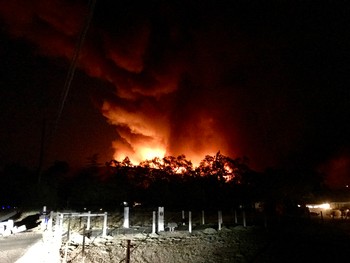 Minutes later, it occurred to me to call our neighbor and notify him of what was happening. There was no warning of the fire, so there was little time for him to evacuate. When he finally did escape safely, he shared with us a video of the flaming tunnel through which he had to drive. We are so grateful he was able to make it out alright, and that we were already safely on the sidelines. Again, our hearts go out to those that were less fortunate.
Next, my dad pulled up the security feed from the estate on his iPhone. It was like a horror movie—terrifying, but unyielding of your attention. We watched the flames climb up the driveway. We then saw them envelop the grape vines and foliage that adorned the front of the estate. Soon enough, the camera feed gave out, and that was it.
My parents returned to their home in Los Gatos to recoup. Natalie and I drove to her parent's farm--Impossible Acres--in Davis and spent the night there. Several days ensued of stress, exhaustion, and confusion. Without knowing for absolute certain, we were fairly sure that everything had been lost. One thing after another would remind us of the things we used to own. For Natalie, the worst part was not knowing. We were stuck in limbo unable to even think about the next steps we needed to take because we simply didn't know what was left. I refused to return to Napa for several days because of the hazardous air conditions, and the constant news of growing fire threats.
On Wednesday, Natalie and I finally returned to Napa and met with police officers at the Knob Hill blockade. They told us that they had stopped taking residents past the road blocks two hours ago, because they needed all available personnel to help evacuate Calistoga. We left Napa again to spend the night with friends in Sacramento, and returned early in the morning to see if they were conducting police escorts once again.
We left our backpacks and respirators in the car, thinking we would first go and ask for a status report. However, we got lucky and an officer was available to take us back to Soda Canyon just as we stepped up. There was no way we were going to risk this chance, so we got in the police car and left.
As we drove through Soda Canyon, we were shocked by the level of destruction. Nothing to see out the window but chimneys and smoldering car husks. Downed power lines and smoking tree trunks littered the road. Every few miles a team of firefighters was working to clear and make safe a new area. The drive to our home had never felt so long. It had never looked so different.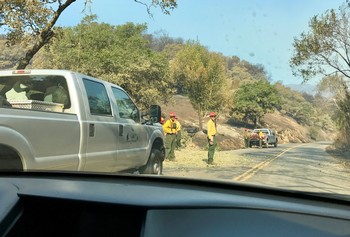 Once we arrived at our gate, we saw that our bridge had also been burned. Only it's metal skeleton remained, and no car was going to cross it. We pleaded for the officer to let us hike up to the estate. She kindly agreed to escort us up, although she had no idea of the trek she had just signed up for. We walked for about a mile, trying our best not to breathe too deeply. The smoke was thick, and all around us was scorched dirt and melted street reflectors. Finally, we made the turn and could look up to see Terra Del Cuore—the Patland Estate. For a second, we thought it had survived, and then we realized that we were seeing blue sky through the windows of the upper floor.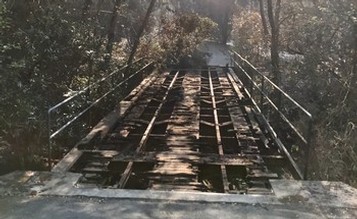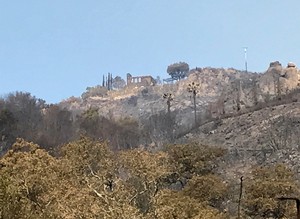 As we continued, we saw our neighbor's home had been reduced to ash, and we could only hope to find something better when we arrived at ours. We found our gate was left open, and power lines hung from it, strewn all across the gravel roadway. As we carefully stepped past, the first miracle was that my own and my mom's cars had survived! Parked on the gravel in the center of the property, they were covered in ash, but otherwise entirely untouched. When we looked left though, we saw that the Caretaker's House—where Natalie and I lived—was not as lucky. The three story building had collapsed on itself, taking with it three of my father's most treasured cars, his Ford GT, Ferrari 16M, and Ferrari Speciale.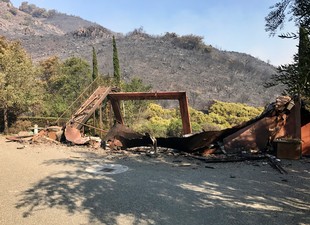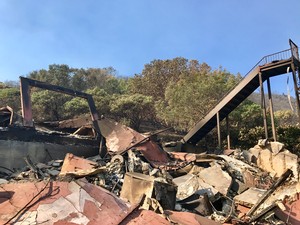 We had little time at the estate, since there were still many others waiting for their chance to return home. There was no time to mourn or to dig; we simply documented with our phone cameras and moved on. The second miracle was that the Guest House was entirely safe! It's almost as if it were inside a bubble the entire time. As we continued up though, we then discovered what was left of the Main House. The stone walls that made it's foundation still stood, but everything else was gone. The bedroom, garage, and even the floor of the second story had burned. The pool was black with dirt and ash, and the view we'd all come to love was now overtaken with plumes of black smoke.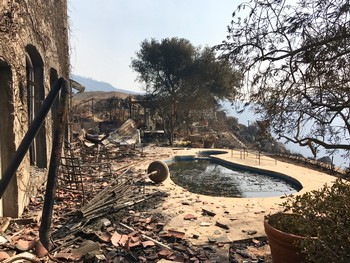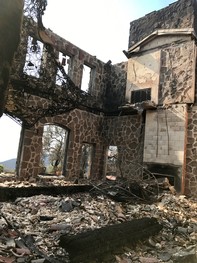 Finally, the third miracle was that the wine cellar and all its contents seemed to survive. No leaking bottles and no pushed out corks. Thank God for wine caves!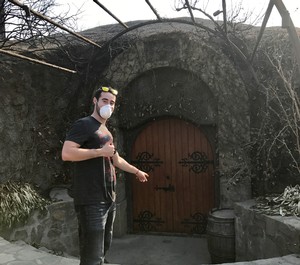 We profusely thanked our police escort, and returned to our car. A wave of relief overtook us. Finally knowing, and even finding a few things that survived was heartwarming. In times like these, all you can do is plan for the worst, and hope for the best.
So that is the first reason I'm writing. I wanted to clarify our story. The next question is: Where do we go from here? I've said this many times in the past week. Our story is only just beginning. We have many more chapters to write. We will rebuild, and we will come out better and stronger from it. We will link arms with our neighbors and do what we can to help those that were less fortunate than us. We hope you will help us.
This brings me to the second reason for writing this. I am overwhelmed by the love and support that has been offered to my family and my community. Everyone is asking how they can help, and I've been thinking a lot about that. The focus now is on immediate relief and safety—as it should be! But there will be long term repercussions of this tragedy, and that is where I feel all of you can help. The local economy of our wine country relies on tourism, the production and sale of wine. We are already tallying our losses, and for many the future is beginning to look grim. Wineries were burned down, and that means a lot of people without jobs. Tour services and drivers are seeing cancellations left and right. Future vintages have been compromised. There is so much destruction that is being left in the wake of these fires, but at the end of the day, our economy relies on you. Wineries of all sizes and the people they employ are all relying on you now. If you stop coming to Napa, stop hiring drivers, stop purchasing wine, then this is something many people may not recover from.
Just yesterday, after returning from the wreckage of our estate, Natalie and I went into Knob Hill to get some water. I ran into one of our favorite Tour Driver partners, and she was so happy to see that we were okay. Within minutes though, she was in tears. Her company had about three groups booked per day until the end of November, and all of them had cancelled. This women's livelihood is now in jeopardy.
So I'll ask you point blank, don't abandon the Napa Valley. We will recover faster than you think. Hire tour drivers. Book winery tours. Eat at your favorite restaurants. Buy your favorite wine. Together we'll get through this.
Comments
Kara
@ Oct 14, 2017 at 10:12 AM
Thank you so much for sharing this story. We visited about a month ago and was taken by the beauty of the estate and the wines. We joined the club and looked forward to coming back and sharing this gem with more family and friends. You are absolutely right that now is not the time to stop coming to Napa. It is the community and family feel that makes Napa so special and it needs tourism more than ever.
Marc Demas
@ Oct 14, 2017 at 10:29 AM
Dear Patland Family, We are sending you our love and best wishes. We are so grateful you are safe and know as Mike so eloquently wrote that this is yet but another chapter of many chapters to come. We stand in support of everyone in wine country and appreciate your strong spirit at this tragic time. Hugs, Demas Family.
Beverly Asleson
@ Oct 14, 2017 at 11:02 AM
Thank you so much for sharing your story. It breaks my heart to see all the devastation from this terrible fire. I've always wanted to go to Napa/Sonoma more so now to help with your economy. You have all the support from everywhere and I am buying wine left and right to help support Napa/Sonoma. When and if you do sell what's in your wine cave let us know, no matter what the cost we will buy. Napa/Sonoma will survive even better, you can count on your fans who love wine!
Geoffrey & Suzanne Ashton
@ Oct 14, 2017 at 11:11 AM
Michael et al: you were very brave and considerate to record this for all of us who have a love and connection with you and your family. I had reached out to Quincy who had told me about the circumstances. Needless to say, are hearts are heavy for you all, but relieved that you are all safe and well. No need to ask, we will buy wine, visit when safe to do so and support the Patland family and the area as we always have. Thanks again, and keep us informed as you move forward.
Allison
@ Oct 14, 2017 at 11:29 AM
Thank you for sharing your story. We visited and joined the club during our honeymoon in 2011 and remember it fondly every time we open a bottle. We will continue to support you and you can count on us to return when you're back in business!
Joseph Urban
@ Oct 14, 2017 at 12:36 PM
Thank you, Mike, for the story. Patland will always be a huge part of our Napa experience and one of the biggest heartbreaks of this whole disaster. Our shock is still with us this morning. We will remain dedicated customers and friends. I've been in touch with Quincey, but want you to know you can consider us as resources 90 minutes away in SF. Just ask. We would welcome having a hand in the rebuilding of that magical place.
Kimberly Ans Daniel Bresingham
@ Oct 14, 2017 at 1:51 PM
My heart breaks for you and your family. Our last visit to your place less than a month ago was and will always be our favorite place in Napa. Our prayers go out you you and your family and will continue they your rebuilding process. Please stay strong and we are thankful that you are all safe. Our love and prayers Daniel and Kimberly Bresingham.
Kim Livoti
@ Oct 14, 2017 at 2:25 PM
Thank you for sharing and you are all in our thoughts and prayers. We really enjoyed our time there on your beautiful property.
Lisa P
@ Oct 14, 2017 at 2:43 PM
We sat on the back patio and sipped on some really great wine. There are no words to describe how i feel learn g this news after only spending an afternoon there. I am so very sorry for your loss. Praying for you
Denise
@ Oct 14, 2017 at 2:54 PM
I am thankful to read your story. My cousin, David Barber, lives in Napa and works closely with several of the wineries in town. I have been relying on his reports. My response to him, when I read your story, was that there are true blessings hidden in the tragedy. I am not a wine drinker, and I live in TN, but I will be supporting you all through prayer...it is the least and best that I can offer.
Stacy Morley
@ Oct 14, 2017 at 3:53 PM
God bless you all. Thank you for this blog post-I will definitely share. We celebrated our 10th anniversary in Napa in September. It was such a magical trip-but the highlight was our time on the Patland property. Q was so knowledgable and welcoming-represents the brand so very well. We bought in immediately! Your words are wise-we will buy wines, we will keep supporting and we will be back! Prayers that rebuilding can begin soon!
Josie Smith
@ Oct 14, 2017 at 4:34 PM
My heart breaks reading this post. I just unpacked my latest shipment from your wonderful family. Please let us know how we can help when the time is right. Clean-up, hot meals, full hearts... The entire Bay Area is here to help!
Andrea and Randy Lewis
@ Oct 14, 2017 at 7:27 PM
We are so saddened to see the devastation these fires have caused. And wow, we were sitting at your breathtakingly gorgeous property less than two weeks ago doing a tasting of your fabulous wines with the lovely Quincy. Every time you think you've seen the most beautiful place Napa has to offer, you are introduced to something that tops them all. This is Patland Estate. We were so shocked to hear the news. You know, virtually every winery we visited, inevitably the question of where you are from came up. And when we told them the area of Florida we were from, they all asked how we were impacted by Irma. I was quite surprised by the level of genuine concern and compassion. And it made me even more aware and attuned to whats happening there. And I am truly at a loss for words at the images and stories I've been seeing. You really are in our prayers. I don't know what else to say except we are glad you are all safe. God bless, Andrea and Randy Lewis
Ella Tkach and Ed Muzichenko
@ Oct 14, 2017 at 7:40 PM
Dear Michael thank you for sharing your story with all of us. We will support your family in re-building our favorite place in NAPA. If you need place to stay, please let us know, you can stay in our house in SF. With all our love to your family.
Cheryl and Dave Hunter
@ Oct 14, 2017 at 8:43 PM
We are so said for the Patland's...they loved their estate vineyard and Mike was a great host for wine tasting...the view was incredible and the wine was really good...It's amazing how fast that fire was...
Tana Craighead
@ Oct 14, 2017 at 9:28 PM
Thank you for sharing your story. We promise to visit and drink more 🍷🍷🍷🍷. Stay strong. And if you need a place to stay I have lots of room at my villa in Cabo & Ukiah , with all our love & prayer to your family
Connie and Brett Saunders
@ Oct 15, 2017 at 6:40 AM
Michael, we have been praying for you and Soda Canyon since we heard the news of the fires. Now we are heart broken seeing our worst fears come true. Please know that we love you, support you and will continue to pray for you in FL. If you want to get away our home is open for a visit anytime. Stay strong!!!!
Jim and Barb Cohen
@ Oct 15, 2017 at 10:02 AM
We were at the winery on the Saturday before the fires started. The scenery and wines were exquisite. As usual Quincy made us feel like family. Sunday night we had dinner and visited with Quincy at our Sonoma hotel not knowing what the next few hours held in store. We left Sonoma the next morning to smoke, fire and blocked roads. Since leaving we have thought daily about the status of the winery and the safety of its people. We are thrilled to know everyone is safe but deeply saddened at the damage the winery has sustained. Patland has made us feel like family. Hopefully the winery will fully recover so that we will have the opportunity to visit again in the not too distant future.
Gerrett Snedaker and Diane Krause
@ Oct 15, 2017 at 11:29 AM
Henry, Olga, Michael and "the twins". We're so sorry for what has happened to your beautiful Napa home. Many are suffering and some lost their lives in these tragic fires - so we are thankful for our blessings. Please let us know if we can help in any way. There's a poster we've seen that says " There is more love in the air than smoke." We'll keep that thought. Diane & Gerry
James Matuszewski
@ Oct 15, 2017 at 11:39 AM
Michael, Quincey and the rest of Patland family...we are saddened by these events that has affected us all in numerous ways. All different stories of loss. Patland Estate was one of the top visits on our premium list and heartbreaking to see the pictures of the place we frequented and just saw a few days ago with customers. They have all reached out and given their well-wishes to you guys and us through these times. We will forge on, we will rebuild from our losses, and come back stronger than before. A chance to start afresh in many ways, Continued prayers to you guys and all that have gone through and some still going through their plight during trying times. Wine country will unite and community will rise above. Cheers, JM
Joseph Bergfeld
@ Oct 15, 2017 at 11:43 AM
A few years ago, my wife, 6 members of our family and I had the supreme joy of visiting the Patland estate, It was a memorable experience. The weather was perfect, the hospitality was fantastic (thank you, Quincey!) and the wine, well, it would be difficult to overstate how much we enjoyed Patland wines we enjoyed that day and how much pleasure it's given me in the ensuing years to be a wine club member and to share Patland Cab with family and friends. The images on the YouTube video are heartbreaking, and although I'm sure that Patland Estate will come back bigger and better (although I don't know exactly how much better you can make the wine!) I am sure that the loss of all you'd built is a significant challenge to absorb. My wife Jean and I look forward to continuing to support Patland, your great wines and the Patland family.
Lanette
@ Oct 15, 2017 at 11:59 AM
Your story brought tears to my eyes and I have this aching pain in my heart that hasn't stopped since I first learned of these tragic and treacherous fires. Napa Valley and especially Patland, hold such a beautiful place in my heart and soul and remind me of better times years ago with friends from all over the country. Thank you so much for sharing your story. I think you wrote it beautifully and you solidified for me the fact that what Napa needs more than anything now is tourism. We have had our October trip planned for over a month now and were wavering because of the possible poor air and water quality. It actually doesn't even matter to me, because I want to be there to show my support and try to start giving back. Cheers and best wishes to you and your family and neighbors and you are all in my heart. We hope to see you soon and we look forward to our upcoming wine trip. ❤️❤️❤️
Hunt Hawkins
@ Oct 15, 2017 at 12:33 PM
Michael: so very sorry to read about you losses. Thank the good Lord you and the family are OK, but obviously scarred. Hard to be loved it was just six or seven months ago that you were touring us around the property and showing off the cars. We love you guys, your wine and your passion. Prayers always, Hunt & Sherri Hawkins
Diane & W alter Schlueter
@ Oct 15, 2017 at 12:33 PM
We were so worried for the Patland family and Quincey Taylor. Quincey responded to our e-mail inquiry and briefly told us what happened. Are Patland wines that are stored in the Caves also OK? We are so glad that you all are safe, you all were in our constant prayers. Yes, we will come to see you at Patland when you are say it is OK to come.
Carl J King
@ Oct 15, 2017 at 1:10 PM
Quincy, please e-mail me what wines you can safely ship. I will order whatever we can afford. Please stay safe and keep Eileen and I in the loop. Carl J King
Michael and Nancy Freeman
@ Oct 15, 2017 at 5:19 PM
We are devastated over the destruction in the Napa Valley and will continue to support and visit as much as possible. We admire your perseverance and thank you for sharing your story. Our hearts and prayers go out to the Patland family, Quincy and all those impacted. We will be in touch with Quincy to purchase as much wine as we're able.
Michael Perlmutter
@ Oct 15, 2017 at 7:05 PM
Hi Henry, Olga, Michael, and Natalie and the whole Patland Estate family: I've been thinking of you and worrying yet hoping for the best. I'm so sorry to see this terrible outcome. I know you guys will gather your strength and rebuild. We haven't talked for sometime but my heart is with you. Please let me know if I can help. My thoughts are with you. -Michael
Jennifer O'Brien
@ Oct 15, 2017 at 8:09 PM
I'm so sorry for your loss in this awful tragedy. We visited your estate with my sister and her husband for my 40th birthday a few years ago and had the most wonderful private tasting on your patio by the pool...it is a memory we all love to think back on and smile, what a beautiful day we had up on your mountain. Our thoughts are with you as you find the strength to get through this and rebuild so we can visit again someday.
Kathy Wasilnak
@ Oct 16, 2017 at 5:51 PM
My husband and I were in Sonoma/Napa 6 years ago this week for our honeymoon. Every year we say we want to get back there and we WILL. sending prayers to everyone out there
Jesse & Erin Campos, Friendswood, TX
@ Oct 16, 2017 at 8:43 PM
Words cannot express the heartfelt sadness we have after seeing the pictures posted here on this blog. The swimming pool picture hit home for me as our group from Houston, this past June 23rd, took pictures near that pool overlooking the valley below - it is completely a night and day memory now. Patland Estates will be forever in our thoughts and we wish you a renewed sense of hope as you look to the future in rebuilding a piece of heaven.
Alex Shubat
@ Oct 17, 2017 at 9:46 AM
Patlands, WOW! This is devastating, we all feel your pain. This is your baby, you put your heart and soul into it and now it's gone. We are big supporters of all things Napa and we will be there soon. Please let me know if I can help in any way.
Paul Sakamoto
@ Oct 18, 2017 at 11:41 AM
Henry, I am so tremendously sorry for your loss of cherished property and memories, but all that much more overjoyed that you and Natalie are well and that you were able to find some significant things untouched (the guest house, cellar and two of your cars).
All that said, I know you will rebound and help others along the way. Once again, so glad you're family is physically unharmed and wishing you the best on your road to recovery.
Best Always,
Paul
Terri Larson
@ Oct 18, 2017 at 12:26 PM
Thank you so much for sharing this update. My heart breaks for all those who have been affected by so much devastation, and I'm thankful that not all was destroyed. We will continue to buy wine and support both Patland Estates and Napa as best we can.
Nell Trotter-Blain

@ Oct 18, 2017 at 6:58 PM

Thank you for updating us all. We will keep Patland and Napa in our thoughts.

Commenting has been turned off.