December 7, 2015 | Michael Patland
The Real Reason to Celebrate in December
December is obviously a very special month. You've got all sorts of fun winter holidays and then finally the new year! This weekend though, we celebrated the most important day of December, the one that puts all others to shame…
Our Mothers' Birthday!
We did it in classic, Napa Valley style. A three part day of celebration, we began with lunch at one of our new favorite downtown places—Atlas Social. This is one of the best tapas restaurants we've ever eaten at, and we've been to Spain a couple times… If you get the chance to go, do what we did. Before you even sit down, order one egg for everyone at the table. Perhaps their most popular item, the "egg" is a soft boiled egg, fried in panko crumbs, and served on a bed of bacon jam. The interplay of textures and flavors makes this one of the most unique and satisfying starters we've ever tried. Oh, and two bottles of Patland Rosé didn't hurt either!
Second, we drove our mothers to one of our neighboring wineries—Darioush. There we were met by an extremely knowledgable, enthusiastic, and entertaining tour guide. Jameson took us through about seven delicious wines, the group favorites being the Viognier and Shiraz. Next, we went down below the tasting room to tour the estate. Architecturally speaking, this is one of the most impressive wineries you can find around the Napa Valley. Not to be missed on your next trip!
Lastly, everyone returned to the Patland estate for a brief respite. After just an hour of rest, Chef Munther showed up at the door! Munther is first and foremost an amazing friend, but he is an equally amazing and talented chef. He drove all the way up to Napa to give a private cooking lesson to our moms. After several hectic hours in the kitchen under his tutelage, we had a mind-blowing three course dinner on our hands.
Stuffed Main Lobster Tail
Herb Goat Cheese Stuffing, Prosciutto Wrapped. Served Over Olive Oil Braised Baby Root Vegetable, Lemon Champagne Bure Blanc, Balsamic Glaze, Blood Orange Basil Infusion
Duck Confit Salad
Warm Currant and Syrah Braised Cabbage Salad, Fresh Pomegranate Reduction
Pistachio Crusted Lamb Rack
Basil Infused Fingerling Potatoes, Braised Lemon Kale, Roasted Corn and Saffron Flan, Red Wine Garlic Pan Sauce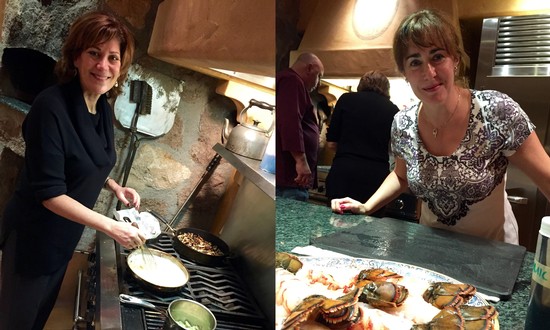 To top it off, we paired an inspired selection of wines to the three dishes…
Bremer 2004 Chardonnay
Kosta Brown 2012 Pinot Noir
Patland 2013 Reserve Cabernet Sauvignon
So if you're looking for some food and wine pairing ideas, by all means, take a page out of our book. You won't be disappointed! After all, the moms weren't…
Happy Birthday Olga Patland and Barb Chappell
Comments
Commenting has been turned off.