The Patland Blog

This morning I finally got the call to come into the winery. I was so excited; it would be my first time really experiencing crush. I had no idea what I was in for...
After a rough start morning, I raced down Soda Canyon Road to get to The Caves at Soda Canyon--where all our wine is made. When I got there, production was going at full force! Jay quickly found his way to me and motioned for me to follow. Staying close on his heels, I stepped over hoses, into puddles, around buckets, and maneuvered around just about everything else you'd find in a winery. My first job: Stem Sorting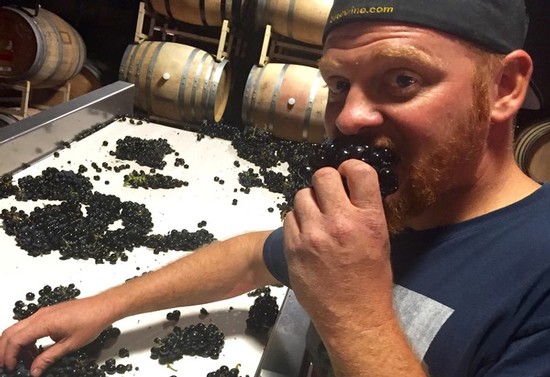 Soon after, I moved up the platform to cluster sorting. Basically removing moldy clusters, leaves, lizards, raisins, and other critters. In no time, all of the Unti Vineyard Zinfandel was sorted and ready to ferment. Then came my next job, hand destemming our estate Malbec. That only took a couple hours... Luckily, I was being well supplied with IPAs. Lastly, I was assigned to do a punchdown on our Port.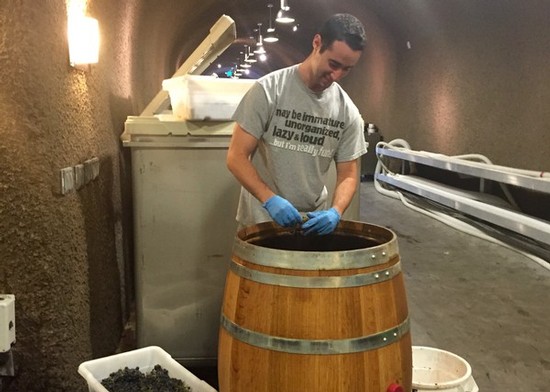 For those that don't know, a punch down pushes the "cap" of grape skins down into the juice. We do this for a few reasons. First of all, it allows the juice--soon to be wine--to extract color, tannin, and flavor from the skins. Second, the yeast involved in the fermentation process actually requires some oxygen to survive. The cap forms a seal, blocking the flow of air into the juice. So we punch it down.
Thing is, our Port had a two foot cap that just didn't want to break. I'll just say this wasn't the easiest job I've ever had, and I certainly have more respect for the people that do this daily. Also, I'm a much bigger fan of the pump over method now!
So here I am, my first day of crush behind me. My hands are purple, my clothes are sticky, and I've got a big smile on my face.

At 5:00 AM this morning, I received a text from Patland winemaker, Jay Buoncristiani. He told me to meet him at Unti Vineyards to check on the fruit for our latest project--Patland Zinfandel. Turns out mother nature doesn't give you a whole lot of notice, and neither does your winemaker!
Regardless, I got up, got dressed, and got in the car. I entered in the address and saw that Unti Vineyards, located in Dry Creek, was two hours away. I could care less though. After all, this was the first step to me making my own wine! Not counting my college basement fun, of course...
I met Jay at the Dry Creek General Store. I left my car there--it not being properly suited for dirt roads--and hopped into his truck. Minutes later we were walking through our block of Primitivo (the clone of Zinfandel we decided to use). First, Jay explained what to taste for. Level of tannin in the skins. Flavor of the pulp. Acid and sugar. Then we looked at the color of the seeds, thickness of the skins, and size of the grapes. Lastly, before leaving, we took some samples. Two gallon ziplock bags full of grape clusters, to be lab tested for brix and pH.
On our drive back to Napa, we passed by Ridge Vineyards. If you didn't know, Ridge is widely felt to be one of the top quality producers of Zinfandel. Fortunately, Jay and I had the same idea. We both pulled over and walked eagerly up to the front gate. It was shut. We were an hour past closing. What did we do? We found a gate that was open! After a quick bit of Jay's signature sweet talking, we were in for a VERY last minute tasting. Everything from their current vintage Lytton Springs Zin to their 2005 Pagani Ranch. Needless to say, we were inspired. So much so, that we decided to share a little of our day in the video above.